Dark Heresy - Haarlock's Legacy 3: Dead Stars
Adventure
| | |
| --- | --- |
| Pages | 72 |
| Publication Date | January 1st, 2010 |
Data Imported into 40krpgtools.com
| Bestiary | Armoury | Rules | Updated |
| --- | --- | --- | --- |
| 24 | | | Oct. 16, 2013 |
---
Description
---
The infamous Rogue Trader Erasmus Haarlock is set to return, and only the Inquisition stands in the way of his dark revenge...
Dead Stars is the conclusion to The Haarlock's Legacy Trilogy, a definitive series of epic Dark Heresy adventures that began with Tattered Fates and continued with Damned Cities. Terrible threats stir amongst the worlds visited by the mysterious Rogue Trader line of Haarlock. What has been left behind threatens everything the Inquisition has worked for in the Calixis Sector.
Dead Stars takes Acolytes to the forbidden ice world of Mara and the haunted planet of Dusk, where they must make a fateful decision that affects the future of the entire Calixis Sector. Old enemies and allies join the struggle on both sides—will the Acolytes be able to survive the terrible conclusion to the Haarlock's Legacy trilogy?
Suitable for players of all levels. A copy of the Dark Heresy Core Rulebook is needed to use this supplement.
---
Buy from
---
---
Table of Contents
---
Introduction
06 | What the Acolytes Should Know about the Legacy
08 | The Revelations of the Haarlock Legacy
09 | Game Master's Briefi ng
09 | Beginning Dead Stars
11 | Dramatis Personae
12 | The Icy Hand of Death
13 | Ice Station Mara
13 | Overview of the Complex
14 | Surface Structures
14 | The Subsurface Complex
16 | The Mine levels
Chapter I: Burning Heavens
18 | By the Writ of the Holy Ordos
19 | Interlude in the Void
21 | Arming for the Apocalypse
22 | Arrival in the Mara System
23 | Return to Realty
Chapter II: Ice Station Mara
26 | Nightmare Labyrinth
26 | The Three Elements
28 | Enemies and Allies
29 | Forging Alliances
29 | The Horrors of Mara
30 | Winning the Race
31 | Arriving at the Ice Station
31 | Descent Through Fire
32 | Encounters in the Ice Station
33 | The Encounters
Part III: The Blind Tesseract
44 | Entering the Tesseract
45 | The Chamber of the Machine
47 | One door closes and another opens…
47 | Creating Additional Encounters
48 | The Shades of History
49 | Echoes of the Future
49 | Example Encounters in the Blind Tesseract
Part IV: The Last Eclipse
54 | Vanishing Point
56 | Dark Star Rising
57 | Resolution and Rewards
Appendix I: NPCs and Antagonists
58 | Major NPCs
65 | The Masses
68 | Appendix II: Player Handouts
---
Credits
---
Lead Developer
Ross Watson
Written By
Alan Bligh and John French
Editing
Leigh-Anne Gross
Dark Heresy Designed By
Owen Barnes, Kate Flack, and Mike Mason
Graphic Design & Layout
Kevin Childress and Mark Raynor
Cover Art
Clint Langley
Interior Art
John Blanche, Matt Bradbury, Paul Dainton, Sacha Diener, Karl Kopinski, Stefano Marinetti, Rod Pereira, Karl Richardson, Marissa Rivera, Erich Schreiner, Sept13, Imaginary Friends Studios
Art Direction
Zoë Robinson
Proofreaders
James Savage, Paul Tucker, Benn Williams with Chris Lancaster, Aric Wieder, Rebecca Williams, and Eric Young
Production Manager
Gabe Laulunen
Managing Rpg Developer
Michael Hurley
Publisher
Christian T. Petersen
Games Workshop
Licensing Manager
Owen Rees
Licensing & Acquired Rights Manager
Erik Mogensen
Intellectual Property Manager
Alan Merrett
Head Of Legal & Licensing
Andy Jones
Special Thanks
"Curious Pastimes" Paul Tucker with Ben Cawkwell, Sarah Cawkwell, and Pel Pearcey "No Guts No Glory" Sean Connor with Mathieu Booth, Nick Hodge, and Stephen Pitson "Bring the Noise" James Savage with Dave Gallacher, Tommy Ryan, and Stewart Strong, "Sons of a Rogue Trader" Robin Everett-McGuirl with Chris Brandmeier, Adam Hargraves, Peter Larotta, Bob Leuzarder, Matthew Robenhymer, and Nate Taylor, Benn Williams with Gary Beller, Chris Lancaster, Aric Wieder, Rebecca Williams, and Eric Young, Craig Williams with Chenoa Crabb, Stefan Elliot, Leonard Goulds, David Thatcher, and Danica Zuks
---
Related To
---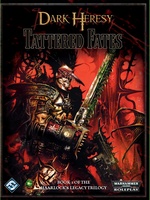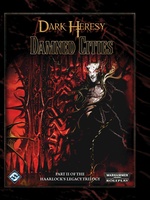 ---
Entities
---
---
Resources
---