Deathwatch - Final Sanction
Free Web Adventure
| | |
| --- | --- |
| Pages | 40 |
| Publication Date | March 29th, 2013 |
Data Imported into 40krpgtools.com
| Bestiary | Armoury | Rules | Updated |
| --- | --- | --- | --- |
| 5 | | | Oct. 16, 2013 |
---
Description
---
Final Sanction is an introductory adventure for the Deathwatch roleplaying game. Landsholm is a planet in the balance, suffering from rebellion and anarchy. The Inquisition suspects an alien influence behind this unrest, and requests assistance from the Deathwatch. Vile xenos creatures place the fate of the planet in danger, and only the Deathwatch can turn the tide before it is too late.
An introduction to action and adventure as a Space Marine in the grim darkness of the far future. Welcome to Warhammer 40,000 Roleplay.
A set of basic rules are included to help players and Game Masters become familiar with the Deathwatch roleplaying game.
---
Buy from
---
---
Table of Contents
---
03 | What is Deathwatch
04 | Sample Characters
08 | Deathwatch Rules Summary
19 | Space Marine Weapons and Wargear
22 | Final Sanction
24 | The Setting
27 | Allies and Antagonists
30 | Part 01: Baptism by Fire
32 | Part 02: Lordsholm Burns
37 | Part 03: The Lord of Blood and Darkness
---
Credits
---
Lead Developer
Ross Watson
Written By
Owen Barnes
Editing
Ben Lurie
Graphic Design
Kevin Childress
Additional Graphic Design
Mark Raynor
Cover Art
Matt Bradbury
Interior Art
Matt Bradbury, Igor Kieryluk, Karl Kopinski, Jorge Maese, Hector Ortíz, Michael Phillippi, Karl Richardson, Oliver Specht, and Adrian Smith
Art Direction
Zoë Robinson
Production Manager
Gabe Laulunen
Ffg Lead Game Designer
Corey Konieczka
Ffg Lead Game Producer
Michael Hurley
Publisher
Christian T. Petersen
Games Workshop
Licensing Manager
Owen Rees
Head Of Licensing
Paul Lyons
Head Of Intellectual Property
Alan Merrett
Special Thanks To The Playtesters
"No Guts, No Glory" Sean Connor with Mathieu Booth, Nick Hodge, Stephen Pitson, and Michael Thompson, "You Bid Babies?!" Jordan Millward with Keri Harthoorn, Kyle Harthoorn, Kieren Smith and Julia Smith
---
Related To
---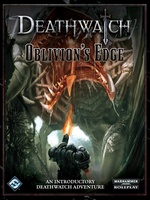 ---
Entities
---