Dark Heresy - Ascension
Supplement
| | |
| --- | --- |
| Pages | 257 |
| Publication Date | January 1st, 2009 |
Data Imported into 40krpgtools.com
| Bestiary | Armoury | Rules | Updated |
| --- | --- | --- | --- |
| 26 | 30 | 3 | Jan. 21, 2014 |
---
Description
---
IT IS TIME TO ASCEND TO A HIGHER PURPOSE!
New rules, new Ascended Careers, all manner of essential gear, and an extensive Games Mastery section makes Ascension an ideal supplement for both players and Game Masters.
Advanced character generation, including transition packages to take your Dark Heresy characters from Acolytes to Throne Agents, and Ascended Careers including Crusader, Storm Trooper, and Vindicare Assassin.
New Ascended Psychic Powers, plus a section on ascended adversaries, from Greater Daemons to renegade Imperial Governors.
Systems of influence and reputation for a different scale of wealth and power in the Imperium, plus Paragon Talents and Mastered Skills to enhance your character's abilities.
How to serve the Inquisition at a higher level, including an adventure that takes your Throne Agents into the halls of power.
This book takes your Dark Heresy campaign to greater heights of power, responsibility, and peril in the grim darkness of the far future.
Suitable for players of all levels. A copy of the Dark Heresy Core Rulebook is needed to use this supplement.
---
Buy from
---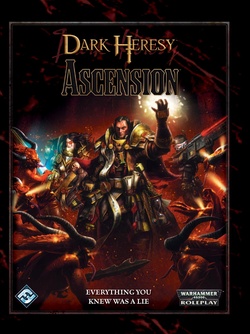 ---
Table of Contents
---
Introduction
003
Contents
Introduction
005 | What is in this Book?
Chapter I: Additional Rules
009 | Expanded Ranks and Experience Scale
010 | Fate Points for Ascended Characters
010 | The Gift of Fate
011 | Spending Fate Points
011 | Burning Fate
013 | Influence and Acquisition
014 | Measuring Influence
015 | Using Influence
016 | Manipulating Others
Chapter II: Inquisitor and Cadre
020 | Forming a Team of Agents
023 | Creating New Ascended Characters
023 | Acolytes to Agents
Chapter III: The Path to Ascension
030 | Transition Packages
030 | Using Transition Packages
030 | Crusader Packages
031 | Death Cult Assassin Packages
032 | Desperado Packages
034 | Hierophant Packages
035 | Inquisitor
037 | Interrogator
038 | Judge
039 | Magos
040 | Primaris Psyker
042 | Sage
043 | Storm Trooper
044 | Vindicare Assassin
046 | General Transition Packages
049 | Ascended Careers
049 | Skills
049 | Ascended Traits
050 | Crusader
054 | Death Cult Assassin
058 | Desperado
062 | Hierophant
066 | Interrogator
070 | Judge
074 | Magos
078 | Primaris Psyker
082 | Sage
086 | Storm Trooper
090 | Vindicare Assassin
094 | Inquisitor
Chapter IV: Ascended Skills and Talents
100 | The Purpose of Ascended Skills and Talents
101 | Mastered Skills
101 | Using Mastered Skills
102 | Gaining Mastered Skills
103 | New Skill Groups
104 | Paragon Talents
104 | Gaining Paragon Talents
110 | Talents of Influence
110 | Positive and Negative Influence
112 | Peers and Enemies
113 | Reputation and Power
120 | Other Ascendant Talents
Chapter V: Ascended Psychic Powers
124 | Manifesting Psychic Powers
125 | Psychic Ascendancy
126 | Special Rules of Ascended Psychic Powers
128 | Stormwroth
129 | Maelstrom of Destruction
129 | Will Unleashed
130 | Burning Apocalypse
131 | Daemonsbane
132 | Witchesbane
132 | Psychokinesis
133 | Temporal Manipulation
Chapter VI: Ascended Armoury
136 | Commissioning Items and Weapons
137 | New Weapon Special Qualities
138 | Ranged Weaponry
141 | Melee Weapons
143 | Armour
144 | Force Fields
145 | Gear
147 | Unusual Ammo
148 | Implants and Augmetics
Chapter VII: Serving the Inquisition
151 | The Holy Remit
154 | Sanctions
157 | The Bearers of the Seal
160 | Factions
165 | The Balance of Power
165 | Becoming an Inquisitor
166 | The Inquisitorial Rosette
167 | Inquisitorial Cadres
168 | The Inquisitorial Household
169 | The Ordos
174 | Interaction
Chapter VIII: Game Mastery
182 | The Inquisitor and His Cadre
183 | Power and the Inquisitor
185 | How the Cadre Functions
187 | Threats and Challenges
187 | There is No Satisfaction Without Toil
188 | There is Always a Bigger Fish
188 | The Immediate Threat
189 | The Conspiratorial Threat
191 | Running a Campaign
191 | The Campaign Focus
Campaign Types ................................................. 192Introduction
004
Chapter IX: Ascended Adversaries
197 | Ordo Hereticus Adversaries
197 | The Burning Princess
198 | Eversor Assassin
199 | Governor Malaki Vess
201 | Magos Vathek
202 | Zashlun, Shroud Mistress of the Pale Throng
203 | Ordo Malleus Adversaries
203 | Herald of Khorne
204 | Marabas, Lord of Change
206 | Ordo Xenos Adversaries
206 | Dire Avenger Exarch
207 | Slaugth Intendant Recusant
209 | Slaugth Warrior Vassal Construct
Chapter X: The Red Wake
212 | The Setting
212 | GM's Briefing
213 | Synopsis of the Adventure
213 | Lords of the Imperium
215 | GM Resources
215 | The Principal Actors
215 | Sydom's Conspiracy
216 | The Noble Houses of Malfi
218 | The Temple Aleph
219 | Dramatis Personae
227 | Part I: A Feast Among Vipers
227 | You are Cordially Invited…
228 | What the Holy Ordos Knows
228 | What the Holy Ordos Wants to Know
229 | The Burning Parade
230 | The Feast of Welcome
230 | The Festivities
235 | Part II: Death at High Mass
236 | The Ceremony of Investiture
236 | Darkness, Panic and Murder Most Foul
237 | The Breaking Storm
242 | Part III: Cause and Consequence
242 | Going After Ensor
242 | Into the Catacombs
244 | Ceremonies of Mourning and Guilt
245 | Rewards
245 | Matters of Church and State
246 | Antagonists & NPCs
246 | The Clergy and their Servants
248 | The Noble Houses
249 | The Commercia
250 | The Powers of Ruin
251 | Map of The Temple of Alepth
252 | Map of The Tabernacle
253 | Ascension Character Sheet
---
Credits
---
Lead Developer
Ross Watson
Written By
Alan Bligh, Andy Hoare, John French, and Sam Stewart
Additional Writing By
Owen Barnes
Editing
Leigh Anne Gross
Dark Heresy Designed By
Owen Barnes, Kate Flack, and Mike Mason
Graphic Design & Layout
Kevin Childress and Mark Raynor
Cover Art
Henning Ludvigsen
Interior Art
Mark Bedford, John Blanche, Alex Boyd, Matt Bradbury, Kevin Chin, Victor Corbella, Paul Dainton, Sascha Diener, Simon Eckert, Wayne England, David Gallagher, David Griffith, Illich Henriquez, Imaginary Friends Studio, Nuala Kennedy, Igor Kieryluk, Anton Kokarev, Karl Kopinski, Clint Langley, Fares Maese, Aaron Panagos, Adrian Smith, Greg Smith, Theo Stylianides, Tiernan Trevallion, Andrea Uderzo, Kev Walker, John Wigley, and Liu Yang
Art Direction
Zoë Robinson
Production Manager
Gabe Laulunen
Managing Rpg Developer
Michael Hurley
Publisher
Christian T. Petersen
Games Workshop
Licensing Manager
Owen Rees
Licensing & Acquired Rights Manager
Erik Mogensen
Intellectual Property Manager
Alan Merrett
Head Of Legal & Licensing
Andy Jones
Proofreaders
Jay Little, Thaadd Powell, James Savage, and Paul Tucker
Special Thanks
Craig Williams with Cheona Crabb, Stefan Elliot, Leonard Goulds, David Thatcher, Danica Zuks, "Bring the Noise" James Savage with Davie Gallacher, Thomas S. Ryan, Stewart Strong, "Curious Pastimes" Paul Tucker with Ben Cawkwell, Sarah Cawkwell, Pel Pearcey, "Sons of a Rogue Trader" Robin Everett-McGuirl with Chris Brandmeier, Adam Hargraves, Peter Larotta, Bob Leuzarder, Matthew Robenhymer, Nate Taylor, David Schumpert with David Hudock, Martin Linde, Adam Schumpert, Pierre Wagenseil, Benn Williams with Gary Beller, Chris Lancaster, Aric Wieder, Rebecca Williams, Eric Young, and Bo Hasle Buur
---
Related To
---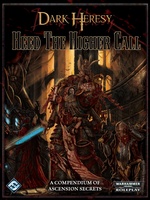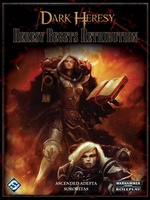 ---
Entities
---
---
Resources
---