Dark Heresy - Blood of Martyrs
Supplement
| | |
| --- | --- |
| Pages | 145 |
| Publication Date | January 1st, 2010 |
Data Imported into 40krpgtools.com
| Bestiary | Armoury | Rules | Updated |
| --- | --- | --- | --- |
| 9 | 21 | 2 | Jan. 21, 2014 |
---
Description
---
The light of the God-Emperor stands between humanity and destruction. Against myriad enemies, the Ecclesiarchy defends the faith with bolt, chain, and flame.
Blood of Martyrs contains new rules, backgrounds, alternate careers and equipment for playing servants of the Adeptus Ministorum, the church of the God-Emperor of Mankind.
Included within are a detailed history of the Ecclesiarchy and the Sisters of Battle, as well as extensive accounts of the Ministorum within the Calixis Sector from Shrine worlds to the powerful cardinals of the Sector Synod. Take up the mantle of the most faithful of the Emperor's servants, the Adepta Sororitas including the Sisters of Battle and the Orders Dialogous, Famulous and Hospitaller!
---
Buy from
---
---
Table of Contents
---
006 | Chapter I: A Million Worlds, One Emperor
007 | The Origins of Imperial Faith
007 | The Crucible of Faith
007 | The Aftermath of the Horus Heresy
008 | The Temple of the Saviour Emperor
008 | The First War of Faith
009 | The Age of Apostasy
010 | The Rise of the High Lord Vandire
014 | The Reformation
016 | The Ecclesiarchy
016 | The Creed Spiritual
017 | The Creed Temporal
017 | Missionarius Galaxia
018 | The Imperial Creed
018 | Tenets of the Faith
021 | Orthodoxy and Heresy
023 | The Adepta Sororitas
023 | The Living Saints of the Adepta Sororitas
024 | The Vault of Origins
024 | Wars of Faith
024 | The Plague of Unbelief
025 | Calixian Ecclesiarchy
025 | Sector Synod
025 | Arch-Dioceses
026 | Sector Synod Cardinals
034 | System Synods and Cults
034 | Calixian Cults
036 | Adepts, Clerics and Missionaries
037 | Ministorum Interests
038 | Pilgrim Coin and Church Tithes
038 | The Name of the Saint
039 | Of Gods and Men: the Adeptus Astartes
039 | War of the Empty Cathedrals
040 | Expansion and the Margin Crusade
041 | War with the Faithless
042 | Saints of the Calixis Sector
042 | Saint Worship
043 | Saint Drusus
046 | Chapter II: Paths of the Righteous
047 | Monodominants
048 | The Cradle of Faith: Ministorum Origins
050 | Shrine Worlds
052 | Famulous Protégé
054 | Monastic Upbringing
055 | The Road of Trials: Ecclesiarchal Backgrounds
055 | Using Background Packages
056 | Blessed Birth
056 | Convert
057 | Pilgrim
057 | Omnissian Apostate
058 | Witness to the Divine
059 | Path of Glory: Ministorum Career Ranks
059 | Taking an Alternative Rank
059 | Moving On
060 | Confessor
062 | Frateris Militia
064 | Redemptionist
066 | Arch Exorcist
068 | Drill Abbot
070 | Calixian Witchfinder
072 | Ecclesiarchal Cell Directives
072 | Using Cell Directives
073 | Hereticus Retinue
073 | Firebrands
074 | Iron Evangelists
074 | Sanction Wardens
076 | Chapter III: Brides of the Emperor
076 | Sororitas in the Calixis Sector
077 | Recruitment
077 | The Orders Famulous
078 | The Orders Dialogous
078 | The Orders Hospitaller
078 | Other Non-militant Orders
079 | Adepta Sororitas Character Creation
080 | Battle Sister
086 | Seraphim
088 | Celestian
090 | Sister Repentia
092 | Sister Dialogus
094 | Sister Famulous
096 | Sister Hospitaller
100 | Chapter IV: Faith and Fury
100 | The Power of Faith
101 | Gaining Faith Talents
101 | Using Faith
102 | Faith Powers
103 | Emperor's Sign
106 | Emperor's Mercy
109 | Emperor's Wrath
114 | Chapter V: Reliquary
114 | Ranged Weapons
114 | Bolt Weapons
115 | Flame & Melta Weapons
115 | Melee Weapons
117 | Armour
119 | Gear & Tools
122 | Servitors
125 | Retainers
126 | Services
127 | Calixian Relics
127 | Using Relics
132 | Chapter VI: Ecclesiarchy Campaigns
132 | Empire of Faith
132 | Finding Religion
134 | Religious NPCs and Organisations
135 | Serving the Church
137 | Piety of Seth
137 | Overview
138 | Port Calling
140 | Port Hadley
---
Credits
---
Lead Developers
Ross Watson and Mack Martin
Written And Developed By
Andy Hoare, Owen Barnes, Robert Dempsey, Lee Gunby & Michael Surbrook
Editing
Ben Lurie
Proofreading
Graham Davey & Charles May
Dark Heresy Designed By
Owen Barnes, Kate Flack, and Mike Mason
Graphic Design
Kevin Childress and Mark Raynor
Cover Art
Kekai Kotaki
Interior Art
Matt Bradbury, Ramon Contini, Victor Corbella, Paul Dainton, Wayne England, Dave Gallagher, Zach Graves, David Griffi th, Ilich Henriquez, Michal Ivan, Karl Kopinski, Igor Kieryluk, Brandon Leach, Marc Lee, Grzegorz Rutkowski, Mark Smith, Nicholas Stohlman
Art Direction
Zoë Robinson
Art Administration
Kyle Hough
Production Manager
Gabe Laulunen
Ffg Lead Game Designer
Corey KonieczkaFFG Lead Game DeveloperMichael Hurley
Publisher
Christian T. Petersen
Games Workshop
Licensing Manager
Owen Rees
Head Of Licensing
Paul Lyons
Head Of Intellectual Property
Alan Merrett
Special Thanks
"Bolters Solve Everything" Kevin Rubitsky with Ian Hardin, Charles May, Scott Ollenberger, Don Richardson, "Sons of a Rogue Trader" Robin Everett-McGuirl with Matt Robenhymer, Chris Brandmeier, Nate Taylor andAdam Hargrave, "Furies for Everyone!" David R. Schumpert III Esq. with Adam Schumpert, Pierre Wagenseil, Marthinus J. Linde, David Hudock, Paul Shivery, Nathan Walters and Chris Hebert, Charles Kellner with Eve Bloom, Jacob Martasek, Jeff Rubinoff, Megan Cook and Pavel Ort, Dave Cerezo with Andrew Schneider, Dave Evensen, Gregory Sabino and Peter Burke, Michael Underwood with Aaron Bond, Andrew Fields, Jason West, John Beavers and Nathaniel Nicholson, "Long Range Support" Wayne Hawkins, Penny Hawkins, Carmen Martin and Cheryl Creek
---
Related To
---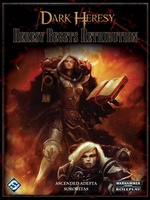 ---
Entities
---