Dark Heresy - Radical's Handbook
Supplement
| | |
| --- | --- |
| Pages | 240 |
| Publication Date | January 1st, 2009 |
Data Imported into 40krpgtools.com
| Bestiary | Armoury | Rules | Updated |
| --- | --- | --- | --- |
| 7 | 10 | | Oct. 16, 2013 |
---
Description
---
From the mysterious Ragged Oracle of Seedworld AFG-218 to the horrors of the Maletek Stalker, The Radical's Handbook contains a wealth of background information and game mechanics to enrich your Dark Heresy campaign.
In the pages of this tome, you will find:
More background packages and character options for those Acolytes of a Radical bent, such as Hive Mutant and the Exorcised More unusual and forbidden technology, including Dark Tech and Xenos weaponry.
More rules for sorcery, daemon weapons, and daemonhosts Detailed information on the Radical factions of the Inquisition, including many Calixian-specific factions Advice on how to run a Radical campaign Ten of the most infamous Radicals in the Calixis Sector ...and much, much more!
Whether you and your Acolytes prefer to destroy the Radicals or join them in their path to damnation, this sourcebook provides all you need to do both.
---
Buy from
---
---
Table of Contents
---
*IntroductIon *
006 | What's in this book?
chapter I: darkness VIsIble
008 | The Assassin's Tale
012 | The Fate of Saldon
017 | Misery IX
chapter II: FallIng From grace
021 | The Peers of the Imperium
022 | Defining Radicalism
022 | Risks and Rewards
025 | Denunciations and High Conclaves
026 | Sins of the Fathers
026 | The Roots of Heresy
027 | Excommunication, and Worse…
028 | Dark Beginnings: Radical Origins
028 | Blighted Schola (Schola Progenium)
030 | Darkholder (Void Born)
031 | Hive Mutant (Hive World)
034 | The Tainted Blood of Malfi
035 | Radical Background Packages
035 | Using Background Packages
036 | Denounced and Condemned
036 | Heretical Sect
037 | Justice, Not Law
037 | Penitent
037 | Thy Name I Keep
038 | Untouchable
038 | Warp Touched
039 | Wyrd
040 | Paths into Shadow: Radical Career Ranks
040 | Taking an Alternate Rank
042 | Forsaken Priest
044 | Heretek Savant
048 | Imperial Diviner
048 | New Equipment: Divination Foci
050 | Malefic Scholar
052 | Maltek Stalker
054 | Mortiurge
056 | Penal Legionnaire
058 | Sin Eater
060 | Tainted Psyker
062 | Warp Dabbler
064 | Radical Elite Advance Packages
065 | Sworn Radical
066 | Daemon Vessel
068 | Daemonic Talents
068 | Daemonic Essence (Talent)
069 | Monster Beneath the Skin (Talent)
069 | Power of the Warp (Talent)
069 | Ruin Incarnate (Talent)
070 | The Exorcised
072 | Mark of the Phaenonite
073 | Alternative Corruption Rules
073 | Imperiled
073 | Tainted
074 | Unhallowed
075 | Istvaanians
075 | Recongregators
075 | Xanthites
075 | Libricar
075 | Ocularians
075 | Oblationists
075 | Phaenonites
075 | Radicals Minoris
chapter III: FactIons
077 | The Radical Path and the Calixian Conclave
078 | Istvaanians
084 | Recongregators
092 | Xanthites
098 | Libricar
104 | The Ocularians
111 | Oblationists
117 | Phaenonites
124 | Radicals Minoris
125 | The Tenebrae Collegium
126 | Seculos Attendous
127 | Inquisitor Whitlock's Endeavour
127 | The Condemnation of House Vipus
127 | The Lost Acolytes of Inquisitor Chalan
128 | Revelation and Conspiracy
128 | Xenos Hybris
128 | Polypsykana
chapter IV: the shadow war
132 | Consorting with the Unclean
132 | Resources
132 | Resource Tests—Who or What
132 | Price of Admission
133 | Modifiers
133 | Timing
133 | Unwanted Observation
134 | Never the Thrones
140 | Blasphemous Allies
140 | Beasts
140 | Expanded Wrangling
141 | Beasts of the Calixis Sector
142 | Shadow Tactics
142 | Expanded Skills and Talents
148 | Psychic Powers
151 | Shadow Gear
151 | Ranged Weapons
152 | Melee Weapons
153 | Weapon Upgrades
154 | Armour
154 | Armour Upgrades
156 | Gear
159 | Drugs
chapter V: the dark arts
162 | Chaos Rituals
162 | Maletek Incarna
163 | Counter-Rituals and their Perils
163 | The Makeup of a Chaos Ritual
163 | The Rule of Sympathy
163 | Sundering the Veil
164 | When the Stars Are Right
164 | The Game Mechanics of Chaos Rituals
164 | Researching Chaos Rituals
166 | Daemonic Familiars
168 | Sorcery
168 | Sorcery Game Mechanics
168 | Dark Power
170 | Malefic Witches and Warp Tainted Psykers
170 | Major Arcana
174 | Occult Artefacts and Daemon Weapons
175 | Occult Artefacts
179 | Daemon Weapons
179 | Weapon Attributes
180 | Infamous Daemon Weapons
184 | On the Creation of Daemonhosts
184 | Instruction in the Malefic
185 | Vile Craftsmanship
187 | Compelling the Daemonhost
187 | The Machinations of the Daemon
189 | Dark Tech
189 | Ranged Weapons
190 | Melee Weapons
192 | Gear and Tools
196 | A Radical's Miscellany
chapter VI: the lure oF the alIen
199 | Xenos Technology
199 | Acquiring Xenos Technology
199 | Using Xenos Equipment
200 | Ranged Weapons
200 | Melee Weapons
201 | Armour
202 | Tools
205 | Xenos Lore
205 | Dealing with the Xenos
206 | Xenos Interaction Gear
206 | Truths
207 | Lies
207 | Conjecture
209 | Xenos Sites
209 | Where the Knowledge is Buried
209 | Library of Knowing
209 | Vault of Remnants
209 | Librarium Mundi
209 | Lythea Haarlock's Tomb
210 | Beneath the Dust of Designate–228–018
212 | Seedworld AFG:218
214 | Those Who Delve
chapter VII: the radIcal campaIgn
216 | Shades of Radicalism
217 | The Fall to Radicalism
217 | Radical Inquisitor, Puritanical Acolytes
218 | Puritanical Inquisitor, Radical Acolytes
218 | Radical and Puritanical Acolytes
219 | Themes in a Radical Campaign
219 | The End Justifies the Means
219 | Arrogance
220 | Hubris
220 | Naivety
221 | Better the Devil You Know
221 | Building Blocks of a Campaign
221 | Temptation
221 | Revelation
221 | Madness
221 | Corruption
222 | How Far is Too Far?
222 | Antagonists
222 | Puritans
222 | Fellow Radicals
222 | The Enemy
222 | Radical Missions
222 | Cultists
224 | Daemons
224 | Xenos
224 | Inquisitorial Infighting
224 | Covert Operations within the Imperium
225 | The Fate of the Radical
225 | Denunciation
225 | Excommunication
226 | Inquisition War
chapter VIII: calIxIan radIcals
230 | Friend or Foe
230 | Radicals as Villains
231 | Inquisitor Felroth Gelt
232 | Inquisitor Arcturos
233 | Hettesh Kane
234 | Seraph
235 | Natius Osrinn
236 | Cyrrik Scayl
237 | Index
---
Credits
---
Lead Developer
Ross WatsonWritingJohn French and Alan Bligh
Additional Writing
Andy Hoare, Andrew Kenrick, Reason, Sean Schoonmaker, Andy Smillie, Sam Stewart, and Michael Surbrook
Editing
Patrick Rollins
Dark Heresy Designed By
Owen Barnes, Kate Flack, and Mike Mason
Graphic Design
Kevin Childress and Mark Raynor
Cover Art
Clint Langley
Interior Art
Matt Bradbury, Dave Gallagher, Mikko Granlund, David Griffith, Imaginary Friends Studios, Nikolaus Ingeneri, Igor Kieryluk, Karl Kopinski, Clint Langley, Hector Ortiz, Brad Rigney, Marissa Rivera, Adrian Smith, Mark Smith, Theo Stylianides, Kev Walker, Liu Yang, and Anselm Zielonka
Art Direction
Zoë Robinson
Production Manager
Gabe Laulunen
Managing Developer
Michael Hurley
Publisher
Christian T. Petersen
Games Workshop
Licensing Manager
Owen Rees
Licensing & Acquired Rights Manager
Erik Mogensen
Intellectual Property Manager
Alan Merrett
Head Of Legal & Licensing
Andy Jones
Special Thanks
"All Records Expunged" Sean Schoonmaker with Cliff Drozda, Nate Grover, Andrew McDonnell, Eric Ullman, "Bring The Noise" James Savage with Davie Gallacher, Thomas S. Ryan, Stewart Strong, "No Guts No Glory" Sean Connor with Mathieu Booth, Steven Cook, Les Hedges, Nick Hodge, Chris Pitson, Stephen Pitson, "Sons of a Rogue Trader" Robin Everett-McGuirl with Alex Athanas, Christopher Brandmeier, Peter Marotta, Matthew Robenhymer, Isaac Xavier-Santos
---
Related To
---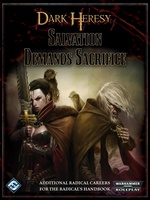 ---
Entities
---