Deathwatch - Rites of Battle
Supplement
| | |
| --- | --- |
| Pages | 256 |
| Publication Date | January 1st, 2011 |
Data Imported into 40krpgtools.com
| Bestiary | Armoury | Rules | Updated |
| --- | --- | --- | --- |
| 36 | 110 | | Jan. 21, 2014 |
---
Description
---
Rites of Battle, a supplement for Deathwatch, provides a host of additional options for players and GMs alike. This book expands on many of the ideas, themes, and systems present in the Deathwatch Rulebook and offers means to enrich and add detail to the adventures of a Kill- team in the Jericho Reach.
A host of new character options allow for increased personalization with thorough "Create Your Own Chapter" and "Alternate Specialities" rules. Plus, play a member of the Imperial Fists Chapter or one of the Successor Chapters that send Space Marines to the Deathwatch. Vehicle rules add a new dimension to gameplay and expand possibilities for adventure. Battle alien tanks with your Land Raider or prowl behind enemy lines with a Land Speeder Storm. Gain access to an extensive new armoury of weapons, armour, and relics from the armouries of Watch Fortress Erioch, or earn new special honours and distinctions to reflect your Space Marine's glorious victories.
A valuable handbook for Space Marines of the Deathwatch, Rites of Battle contains everything needed to prepare a Deathwatch Kill-team for any mission.
---
Buy from
---
---
Table of Contents
---
Contents
Contents
006 | Introduction
006 | What's in this book?
008 | Chapter I: Deathwatch Origins
008 | Trials of the Aspirant
009 | Rites of Selection
013 | Birth of a Chapter
013 | The Foundings
014 | Creating Your Own Chapter
014 | Origins
016 | Gene-seed
023 | Founding Fathers
024 | Home World
026 | Home World Predominant Terrain
028 | Relationship with Home World
029 | Organisation
030 | Combat Doctrine
032 | Solo Mode Abilities
032 | Squad Mode Abilities
033 | Speciality Restrictions
034 | Special Equipment
034 | Beliefs
036 | Current Status
036 | Friends and Enemies
038 | Chapter Name
038 | Battle Cry
039 | Heraldry
039 | Livery
040 | Custom Chapter Advance Tables
043 | Tying It All Together
044 | The Imperial Fists
044 | The Emperor's Praetorians
047 | Imperial Fists Names
048 | Imperial Fists Rules
048 | Imperial Fists Pasts
048 | Imperial Fists Primarch's Curse
049 | Imperial Fists Solo Mode Ability
049 | Imperial Fists Advances
049 | Imperial fi sts Squad Mode Abilities
050 | Imperial fi sts Psychic Powers
051 | Imperial Fists Chapter Trappings
052 | Successor Chapters
052 | Why Play A Successor Chapter Character?
052 | Creating a Successor Chapter Character
053 | Adventure Seeds
053 | The Second Founding
054 | Subsequent Foundings
055 | Ultramarines Successors
055 | Novamarines
056 | White Consuls
057 | Black Consuls
057 | Mortifactors
058 | Genesis Chapter
059 | Dark Angels Successors
059 | Consecrators
060 | Angels of Redemption
061 | Angels of Absolution
062 | Blood Angels Successors
062 | Flesh Tearers
063 | Lamenters
064 | Blood Drinkers
065 | Knights of Blood
066 | Imperial Fists Successors
066 | Crimson Fists
067 | Hammers of Dorn
068 | Subjugators
069 | Joint Operations
069 | Bringing Deathwatch into Dark Heresy
070 | Bringing Dark Heresy into Deathwatch
070 | Bringing Deathwatch into Rogue Trader
070 | Bringing Rogue Trader into Deathwatch
072 | Joint operations in Your Campaign
074 | Chapter II: The Call of War
074 | Deeds
074 | Using Deeds
075 | Chapter Deeds
075 | Feast of Blades Participant
075 | Assault on Baal Veteran
075 | Initiate of Secrets
076 | Pain Glove Mastery
077 | Ritual Duel Fighter
077 | Purger of Vigil
078 | Keeper of Ways
079 | Campaign Deeds
079 | Crusade Reinforcement
079 | Acheros Salient: The Spectre of Vanity
080 | Canis Salient: Stealth Operations
080 | Orpheus Salient: Ghost Ships
081 | Battle Damage
081 | Return to Duty
081 | Price of Victory
082 | Valorous Deeds
082 | Second-in-Command
082 | Defensive Genius
082 | Strike Team Specialist
083 | Toe to Toe
083 | No Quarter Given
084 | Speciality Deeds
084 | Protector of the Chapter
084 | Right Place, Right Time
084 | Precision Targeting
085 | We Are All One
085 | Right Gear for the Job
085 | Omnissiah's Calling
086 | Deeds of Disdain
086 | Reclaiming the Lost
087 | Lone Survivor
087 | Gene-Seed Anomaly
089 | Distinctions
089 | What are Distinctions?
090 | Marks of Distinction
090 | Command Marks
092 | Combat Marks
003Contents
094 | Determination Marks
096 | Creating New Marks of Distinction
096 | Example Distinctions
099 | Advanced Specialities
099 | Using Advanced Specialities
100 | Deathwatch Black Shield
104 | Deathwatch Champion
106 | Deathwatch Chaplain
110 | Deathwatch Dreadnought
112 | Becoming a Dreadnought
114 | Deathwatch Epistolary
118 | Deathwatch Forge Master
120 | Deathwatch Keeper
123 | Deathwatch Kill-marine
126 | Deathwatch Watch Captain
130 | First Company Veteran
134 | Chapter III: Expanded Wargear
134 | Ranged Weapons
134 | Bolt Weapons
135 | Plasma Weapons
135 | Melta Weapons
135 | Flame Weapons
136 | Solid Projectile Weapons
136 | Grenades, and Explosives
137 | Launchers
137 | Exotic Weapons
139 | Melee Weapons
140 | Special Issue Ammunition
142 | Armour
143 | Force Fields
144 | Weapon Upgrades
144 | Tools and Equipment
146 | Cybernetics
146 | Psyber Familiars
149 | Power Armour
152 | Choosing Your Power Armour
152 | Going Without a Helmet
153 | Power Armour History
156 | Relics
156 | Chapter Relics
159 | Deathwatch Relics
164 | Chapter IV: Vehicles
164 | Vehicle Classifi cations
165 | Driving and Flying
166 | Vehicle Combat
167 | Aerial Combat
169 | Shooting Vehicle Weapons
189 | Chaos Vehicles
193 | Tau Vehicles
200 | Chapter 005: Honour or Death
200 | Renown
201 | Earning Renown
201 | Losing Renown
202 | Using Renown as Infl uence
204 | Honours
204 | What are Honours?
204 | Bestowing Honours
205 | Codex Astartes Honours
211 | Chapter Specifi cHonours
212 | Requisition
212 | Missions and Assigning Requisition
212 | Boosting Requisition
213 | Reserve Requisition
214 | Imperial Assets
214 | Imperial Naval Assets
217 | Imperial Guard Assets
219 | Inquisitorial Assets
221 | Adeptus Astartes Assets
224 | Divided Loyalties
225 | Advanced Solo and Squad Mode
225 | Solo Mode Abilities
225 | Squad Mode Abilities
228 | Chapter VI: Watch Fortress Erioch
228 | Origins
234 | Inhabitants of Erioch
234 | Adventure Seeds
234 | Battle-Brother Richter
234 | Watch Captain Brand
235 | Deathwatch Chaplain Titus Strome
235 | Goremann the Elder
236 | Watch Captain Rames
236 | Deathwatch Apothecary Septimus
237 | Watch Captain Prascus
237 | Deathwatch Champion Attalus Fellhand
238 | Inquistor Horosa Barnabas, Ordo Xenos
238 | Deathwatch Forge Master Mac Zi Ven
239 | Inquisitor Vils Andarion, Ordo Xenos
239 | Inquisitor Ezu Ghraile, Ordo Xenos
239 | Prisoners of the Deathwatch
240 | Aun'La Tsua'Malor Viorla
240 | Larathyn Ki Tajell: Eldar Renegade
241 | Subject #696: Unknown Xenos Type
242 | Silicate entity: "Oathkeeper"
242 | Verian-Holms DeLacre: Ex-Governor of Kaggeran
243 | Unknown Xenos Organism: Devil Leech Colony
243 | Tyranid Vanguard Organism: Mahir Leaper
243 | Tyranid Organism: Unknown Genus
244 | Erioch Operations
244 | Watch Duty
244 | Investigation
245 | Cleansing
245 | Retrieval
246 | Extermination
246 | Exceptional Circumstances
248 | Artefacts of The Omega Vault
248 | GM Guidance: Using the Omega Vault in campaigns
250 | Beyond Erioch: Regions of the Jericho Reach
250 | Dakinor
250 | Execution Eternal
251 | Warzone Epsilon
025 | The Deserter's Coil
---
Credits
---
Lead Developer
Ross Watson
Written And Developed By
Owen Barnes, Andy Chambers, Ben Counter, Graham Davey, Lee Gunby, Andy Hoare, Jason Marker, Sam Stewart
Additional Writing
Andrea Gausman, Tim Huckelbery, and Kevin Rubitsky
Editing
Alex Davy
Proofreading
Alex Davy
Graphic Design
Kevin Childress
Additional Graphic Design
Mark Raynor, Brian Schomberg, and Michael Silsby
Cover Art
Michael Phillippi
Interior Art
Alberto Bontempi, Alex Boyd, Matt Bradbury, Paul Dainton, Simon Eckert, Wayne England, Hardy Fowler, David Gallagher, Mark Gibbons, Zach Graves, David Griffi th, James Hall, Nikolaus Ingeneri, Toni Justamente, Nuala Kennedy, Igor Kieryluk, Karl Kopinski, Stefan Kopinski, Clint Langley, Hector Ortiz, Karl Richardson, Oleg Saakyan, Erich Schreiner, Adrian Smith, Mark Smith, David Sondered, Nicholas Stohlman, Theo Stylianides, Tiernan Trevallion, Chase Toole, Fredrik Tyskerud, Andrea Uderzo, Liu Yang, Ben Zweifel
Art Direction
Zoë Robinson
Production Manager
Gabe Laulunen
Ffg Lead Game Designer
Corey Konieczka
Ffg Lead Game Producer
Michael Hurley
Publisher
Christian T. Petersen
Games Workshop
Licensing Manager
Owen Rees
Head Of Licensing
Paul Lyons
Head Of Intellectual Property
Alan Merrett
Special Thanks To Our Playtesters
"No Guts, No Glory" Sean Connor, Stephen Pitson, Mark Smith, and Michael Thompson "Veterans of a Psychic War" Benn Williams, with Chris Lancaster, John Ross, Aric Wieder, Rebecca Williams, and Eric Young, "The Bolter & Chainsword Playtest Group" Matthew Hunt with Andrew Binsack, Ruben DeJong, Richard Galvez, Austin W. Hoffman, Anders Lang, Scott Mallinson and Ryan Powell "Bring the Noise" James Savage with Davie Gallacher, Thomas S. Ryan, and Stewart Strong, David Schumpert with David Hudock, Martin Linde, Adam Schumpert, and Pierre Wagenseil
---
Related To
---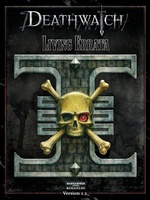 ---
Entities
---